Here's some pictures from Halloween:
My first attempt at a Jolly Roger pumpkin. Pretty bad, but still, it gets its point across.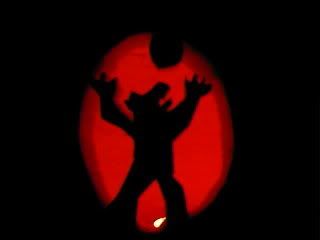 This was supposed to be a werewolf howling at the moon, but it turned out more like a werewolf shooting a basketball. But, hey, remember the movie Teen Wolf, where Michael J. Fox was a basketball-playing werewolf? Yeah, I think it works.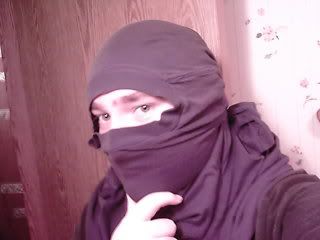 Usually I dress as a pirate. As in, on days other than Halloween, I dress as a pirate. So, this year, I dressed in all black, tied a shirt around my head, and went as a second-rate ninja, for irony's sake (because of the ancient pirate/ninja fued, of course). I went outside and juggled clubs while handing out candy. After an hour, my hands were numb, and I was dropping them all over the place. I place the blame on some kind of ninja curse.
And an update on the handlebar moustache thing: it's a bust. I just can't grow decent facial hair. This is what I look like after five days without shaving:
[image removed]
At that rate, it'd take me roughly two years to get a decent handlebar going.
Just got back from feeding my ballot to a Diebold touch-screen machine. Maybe now I'll stop getting calls from Robotic Bill Clinton, Robotic Mike DeWine, and Robotic Mike DeWine's Wife.
Currently Listening: "I Am Ninja, My Life is Lonely and Difficult" by The Dauntless Elite