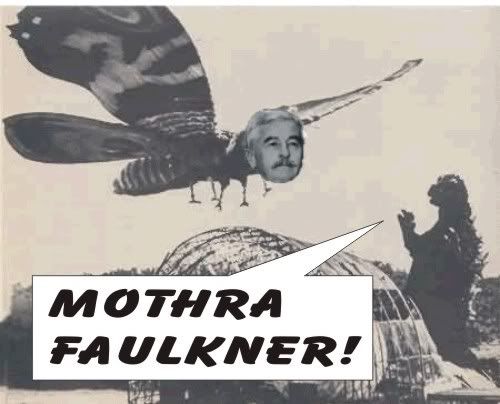 I just remembered that I had this floating around in my Photobucket page from last year. I was driving home from Lit class, and it hit me - I had to come straight home and make this image, because if I didn't, who would? I've been using "Mothra Faulkner" as an expression ever since, but I didn't really have any place to put the image before now. See, this is why blogs are cool - if you hadn't been reading this, you never would have been introduced to Mothra Faulkner. Unless you live in Japan, where I imagine he flies around from town to town, telling everyone about the American South.
Someone sprayed some tags on the sidewalk in front of my house. I put a frame around it in sidewalk chalk, wrote "(neighborhood name) Art Museum" above it, then added a small label at the bottom describing it as an example of neo-classical post-gangsterism. Hope they like it.
Also, I found a bunch of old shirts from 7th grade that still fit. Maybe it's a little creepy for a twenty year old to be wearing a shirt from the local junior high, but hey...I'm too broke to turn down free clothes.
"Kids! If you want to piss off your parents...show an interest in the arts!"
-"Imaginary Places" by Busdriver