Buried under the weight of words.
---
No one told me that when, over the course of 23 years, you accumulate roughly eight metric assloads of books, you eventually have to MOVE eight metric assloads of books. To a third floor apartment. With no elevator.
Sweet Fancy Moses, this is gonna take forever.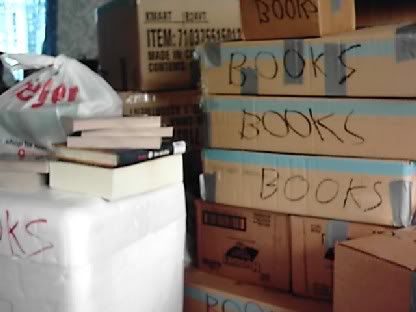 Yes, those are all books.
But on the plus side...I've got a lot of books.
Also, I've got a new place that's fairly close to my new job. Best thing about the new place? I can finally get broadband access. Up until now, I've been scraping by on my gas-powered 56k connection.
"Our aspirations are wrapped up in books,
Our inclinations are hidden in looks."
"Wrapped Up in Books" by Belle and Sebastian