A friend gave me an early Valentine's Day present today. Simpsons fans should appreciate it: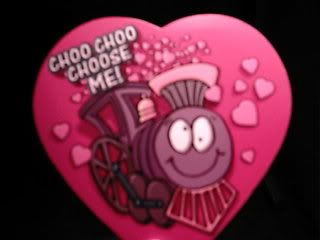 "It says 'Choo-Choo-Choose Me'! And there's a picture of a train!"
Ah, classic Simpsons.
I was in Biology class, learning about organic chemisty, when all of a sudden I realized something: I'd never shaved my head before. Not once. So after class, I went home and did it, then came back for my next class. There's a couple people who are in both classes with me, and they were pretty shocked. I wasn't sure if I'd like it or not, but I think it's pretty cool, especially since I now better resemble one of these guys:
[image removed]
"Oi! You stupid skinhead."
-"Mouseteeth" by This Bike is a Pipe Bomb